Enjoy a magical and festive family visit to Father Christmas in his traditional haybarn workshop.
The visit begins as the children hop on board the Santa Express trailer with one of the elves for a short ride from the Farm Park. Up to 2 adults may accompany each child by walking alongside the trailer, which travels very slowly. Each group carries a maximum of 15 children.
Once through the magical gates, you'll gather as a group in his workshop, set deep in a traditional hay barn. In the grotto, each child will meet Father Christmas and receive a wrapped present from him.
The visit from start to finish takes approximately 15 -20 minutes.
Advance bookings to see Father Christmas available online.
Buy tickets here
N.B bookings can be made in advance up until midnight the day before. A limited number of tickets may be available to purchase on the day but we cannot guarantee this. We recommend booking in advance to avoid disappointment.
Also this Christmas:
Hundreds of Christmas Trees on sale from Thursday 23rd December
New born lambs expected early December
Heated indoor play barn
Children's Christmas Trail
Christmas badge making (weekends & holidays only)
Our Gift Shop packed with toys, books, stocking fillers and gifts for all ages open every day
STANDARD

Weekends & everyday
from 9th Dec

OFF PEAK

Weekdays
from 23rd Nov – 8th Dec

AFTER SCHOOL

WEEKDAYS AFTER 3PM
FROM 23RD NOV – 21ST DEC

Plus Father Christmas Visit

Adult
£10.50
£7.00
£5.00
Up to 2 adults per child free
Senior
£9.80
£7.00
£5.00
Up to 2 adults per child free
Child 3 – 17 years
£10.95
£7.00
£5.00
£8.50
Child 2 years
£9.20
£7.00
£5.00
£8.50
Under 2 years
Free
Free
Free
£8.50
Disabled
£8.20
£7.00
£5.00
£8.50
Please note that Father Christmas may only be booked when making a visit to the Farm Park too.
Dates & Times
| DATE | FATHER CHRISTMAS VISIT TIMES |
| --- | --- |
| Thurs 23rd – Fri 24th Nov | 10.30am – 1pm |
| Sat 25th – Sun 26th Nov | 10.30am – 4pm |
| Mon 27th Nov – Fri 1st Dec | 10.30am – 1pm |
| Sat 2nd Dec – Sun 3rd Dec | 9.15am – 5pm |
| Mon 4th Dec – Fri 8th Dec | 10.30am – 3.30pm |
| Sat 9th Dec – Sun 10th Dec | 9.15am – 5pm |
| Mon 11th Dec – Thurs 14th Dec | 10.30am – 4.30pm |
| Fri 15th Dec | 10.30am – 6.30pm* (special late opening evenings) |
| Sat 16th – Sun 17th Dec | 9.15am – 5pm |
| Mon 18th – Tues 19th | 10.30am – 6.30pm* (special late opening evenings) |
| Weds 20th – Thurs 21st | 10.00am – 5.00pm |
| Fri 22nd – Sat 23rd Dec | 9.15am – 5pm |
| Sun 24th Dec | 9.15am – 3pm* (farm closes at 4pm) |
*SPECIAL LATE OPENING EVENINGS on Fri 15th, Mon 18th and Tues 19th:
Farm Entry just £5 when you arrive after 3pm. The indoor playbarn, main barn, Small Animal Village and Tearooms will stay open until 7pm. The rest of the farm park will close as usual at 5.30pm.
*Bookings for large groups of 10 or more children, birthday parties, school and nurseries and groups with special needs should contact us to make their booking over the phone on 01372 363764.
Special event terms and conditions
The Father Christmas visit at Bocketts farm is a group family experience, with up to 15 children per session with accompanying adults. If you book less than 15 children, your session is not exclusive to your group.
The Santa Express trailer is for children only. We cannot permit adults to ride on the trailer. The trailer travels at walking pace so adults may walk directly alongside with pushchairs or with children not comfortable to ride alone on the trailer. The ride lasts no longer than 3 minutes.
You should aim to arrive at the farm at least 30 minutes before your booked Father Christmas time to allow for parking and ticket collection etc. Your booked Father Christmas visit time is not changeable and once you have checked in at the entrance you must ensure you arrive at the departure point 10 minutes before your session time. The Santa Express trailer will depart promptly and will not wait for late arrivals. If you miss your session we cannot guarantee you a ticket for another session.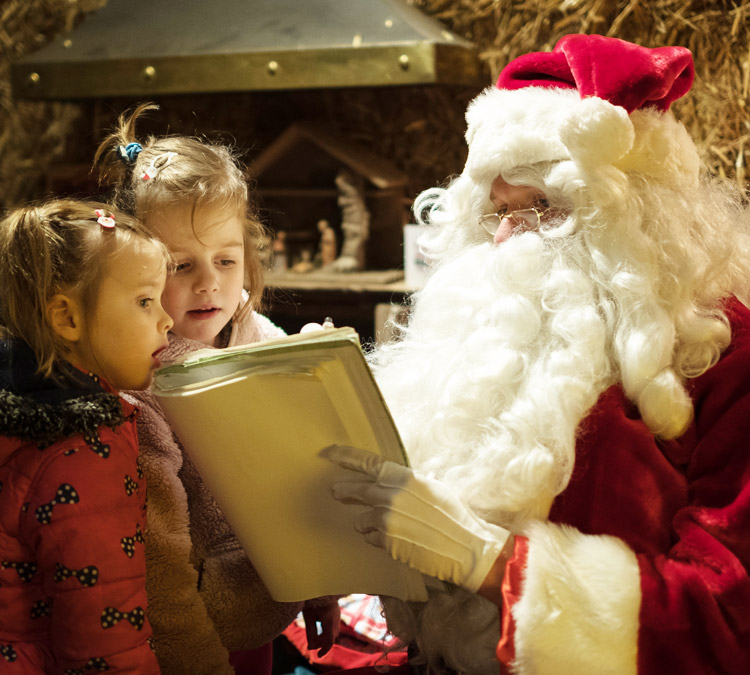 The visit is suitable for children of all ages. Babies wishing to meet Father Christmas and receive a gift should be booked as usual. Babies not wishing to meet Father Christmas nor receive a gift can accompany parents into the grotto without booking.
If more than 2 adults wish to accompany one child, additional tickets to the grotto can be purchased for adults at £2 each.
Older children not booked to see Father Christmas count as an accompanying adult.
Children must be accompanied by an adult at all times.
Each child will receive a wrapped gift, suitable for their age.
Bookings are to be made for a set date and time slot.
Bookings are non-refundable.
Bookings to visit Father Christmas are subject to a 50p fee per child ticket.